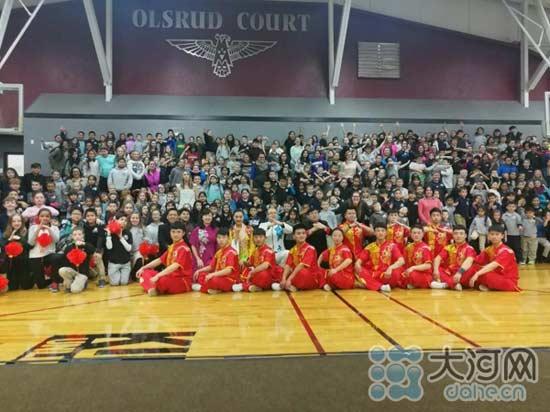 Eye-Feasting Tour of "Wulin Hanyun" Troupe in US, 2017
  It's been seven years since we first met Frank Phillips. Sent by Hanban/Confucius Institute Headquarters, a troupe named "Wulin Hanyun" organized by the Education Department of Henan Province toured the US for the first time in January 2010 for performances, lectures and exhibitions. The second stop was St. Mary's School where Frank was working. Founded in 1865 in Medford, St. Mary's School is one of the best private high schools in Oregon. The school and China's Zhengzhou University co-established the first independent Confucius Classroom in North America in 2008. Frank was then the principal of St. Mary's School and is now its president.
  Seven years ago, Frank could not speak Chinese; however, he now shows a mastery of colloquial Chinese expressions such as "xinkule" (thanks for your effort) and "henlihai" (awesome) when talking with old friends from Henan.
  Why does Frank keep his passion for Chinese teaching in a city where Asian-Americans only account for 1 percent of its population? He gave the answer during his chat with old friends from China.
  With hometown at Rhode Island, Frank lived a poor childhood but he worked very hard at school. Richard Nixon's sudden visit to China aroused the curiosity of Frank as a middle school teenager over the mysterious country in the east, and he has been eager to know about China since then. After high school, he was admitted to Brown University with outstanding performance and got a full scholarship. Frank said that, education changed his life, and he made up his mind in university that he would devote his life to helping children like him go to school when he has opportunities in the future.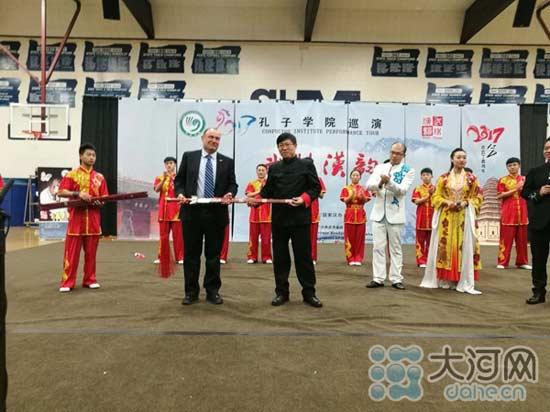 After marriage, Frank and his family moved from the east coast to the west coast of the US and lived there for several decades. And this year marks the 30th anniversary of his teaching career.
  It's known that private high schools are at the top of the US high school system. Thus Frank's career from teacher to principal then to president shows the school's high recognition of his efforts.
  St. Mary's School, where Frank was working, started Chinese language courses in 2005, which was rare in Oregon at that time. Frank said that, economic development has been quickening the pace of globalization, and countries need to know each other. "In my contacts with China, I found that the Chinese people's understanding of the US is far beyond the US people's understanding of China. To learn the Chinese language is a good way for the US people to know about China."
  With Frank's promotion, St. Mary's School and Zhengzhou University succeeded in establishing the first independent Confucius Classroom in North America in 2008.
  Given their excellent work, Frank won the Confucius Institute Individual Performance Excellence Award in 2009, and St. Mary's School was awarded the Confucius Classroom of the Year in 2013. "Thank you very much for your visit to our school in 2010, and the performance made a strong impression on our children. We had only two cooperation projects on Chinese language then and now the number has reached five."
  It's not easy to develop five projects at the same time in Medford, a small city with limited population, said Du Lele, head of St. Mary's School's Chinese language project.
  Besides, thanks to the support of the Confucius Institute Headquarters and the Education Department of Henan Province as well as Frank's endeavor, students from St. Mary's School travel to China for exchanges almost every year since 2010. "We traveled to Henan many times and were impressed a lot during our visits to cities such as Zhengzhou, Luoyang, Kaifeng and Dengfeng. The children like the summer camps hosted in Songshan Shaolin Wushu College and Zhengzhou University in particular."
  The Confucius Classroom and characteristic Chinese language education have made the well-known century-old St. Mary's School increasingly attractive to local students and brought remarkable changes to the school as well.
  First of all, it has become one of the Chinese language education centers in Oregon. As mastery of Chinese is becoming an important reference for many US universities in enrolling US students, six students from St. Mary's School were granted full scholarships last year due to their experience in learning Chinese. Second, the school enjoys increasingly closer relations with its Chinese cooperation partners. As of 2016, the school has established six campuses in China, including the Henan campus in Zhengzhou No.11 High School. And the number of Chinese students studying in the school has grown from several to over 50. Frank is very confident about the future. "We have collected enough money for our new science building and apartments for international students this year. The school is heading toward one of the best high schools in the US."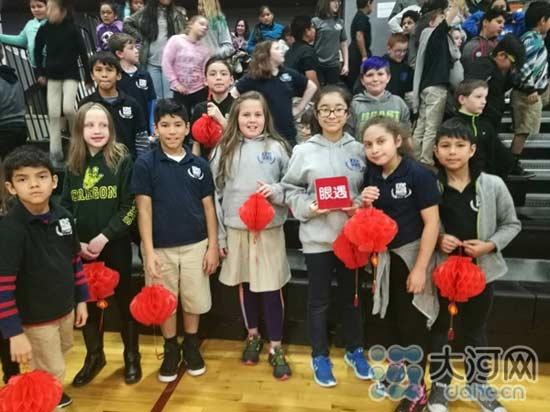 As for the second visit of his friends from Henan, Frank took special care in arranging the schools which the troupe would tour. In addition to a performance in St. Mary's School like the first time, he also invited the troupe to visit other two special elementary and middle schools in the region: SACRED HEART CATHOLIC SCHOOL established also in 1865 and KID SUN LIMITED PUBLIC CHARTER SCHOOL. The latter enrolls poor local primary scholars who rarely watch Chinese performance at other times, and former US President Barack Obama visited this special school and delivered a speech in 2008.
  As expected, the troupe's performance at noon made the school gymnasium a sea of joy instantly. During the performance, the children laughed and yelled happily. After the performance, they went to the stage actively yet with a little shyness to embrace the teachers and students who brought joy to them from the distant China. Only the performance of Klye, a graduate from the school and an NBA player in the Detroit Pistons, when he returned his alma mater can compare with such joyful spectacle, said Vice Principal Schulz of the school.
  Du Lele said that, although only over 1,200 students watched three shows in two days, Medford will surely witness a smooth promotion of the Chinese language with Frank's elaborate arrangements and his high personal influence in the region.
  Before farewell, Frank revealed a little secret to his friends from Henan, " 2018 marks the tenth anniversary of the establishment of the Confucius Classroom in our school, and we are actively communicating with Zhengzhou University to arrange a series of celebrations at that time. I hope we will have the opportunity to meet again in Henan."
  Story & Photo by Wang Xihui & Chen Xinhua